INSPIRING AND EMPOWERING THE CREATIVE COMMUNITY: Imagine what would happen if 160 million creatives rose up and designed a plastic free world. Not in 2040 but today...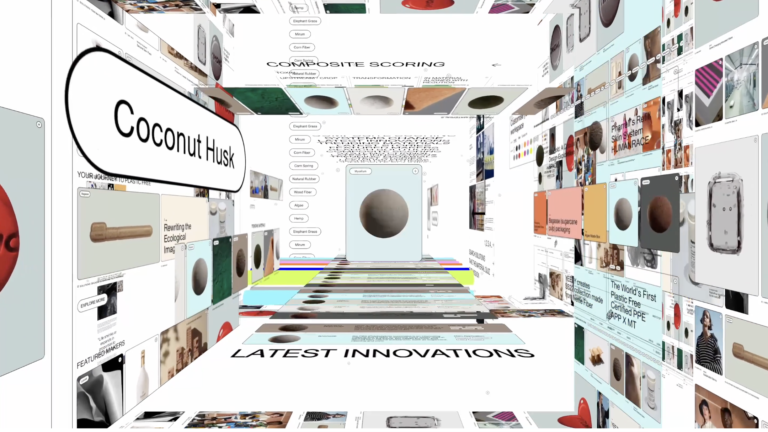 PLAY

PLAY

THE CONTEXT
We are staring down the barrel of one of the most challenging periods in human history. We're all in agreement that the way we produce goods, with little regard for the resources we are using and the waste we are creating, needs to change. But we are plagued with a 'common vision problem' where the only prevailing image presented to us is a dystopian one. And nothing will change if we collectively fail to re-see the unfathomable potential of today.
PlasticFree is first and foremost a mindset. It's the belief that the 160 million creatives on this planet have the power to challenge the status quo–to use their visionary disruptive skills to design plastic out at source. Because plastic is not a production problem, a recycling problem, or a waste problem. It's a design problem.
PLAY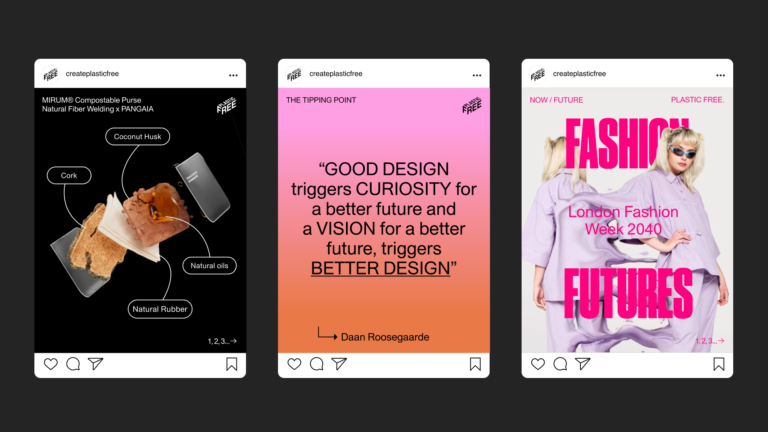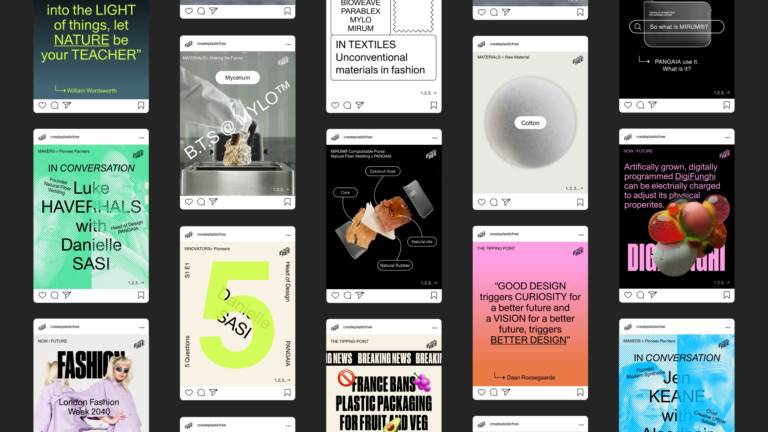 THE CREATION
We worked alongside the team at A Plastic Planet to create plasticfree.com—the world's first materials and systems solutions platform that empowers designers to reimagine a waste-free world. Rich in proof points, case studies and insightful editorial from leaders in the worlds of design and science, it connects designers directly with those at the forefront of sustainable material development and scalable systems change.
Through a rigorous design and strategy process, Made Thought delivered an offering that seeks to reshape entirely how designers conceive and make. As specialists in luxury design with a specific interest in the aesthetic of sustainability, we envisioned plasticfree.com as not only a much-needed and overdue resource but also a beautiful, considered, design-led experience–a website capable of inspiring positive change tailored for the most discerning of audiences.
"All designers are like magpies—always looking for something new, different or exciting," says Made Thought's founding partner Ben Parker.
"After all, with so much innovation currently being driven by sustainability, it means PlasticFree is a unique inspiration platform for the creative industry. It helps translate topics that can often be lofty or very dry, making them both digestible and desirable. 
And, critically, it feels optimistic, a place full of potential and possibility of making a plastic free world. There are many 'trend' sites out there already. What designers need is trusted, fresh, relevant information, delivered in a way they want to consume it."

"We wanted to create that careful balance of showing just how exciting and beautiful our new future of systems and materials can look and how you can be part of it while communicating the deep authority and know-how of the team behind the platform."
PLAY

PLAY

"Made Thought, led by Ben Parker, has been our absolute superpower. Their support and creative genius has enabled A Plastic Planet and now PlasticFree to create positive impact at a global scale that belies our size and budget. Always at our side, pushing for better because they know how important it is; Made Thought is a vitally important part of our team to whom we will be forever grateful."
THE ACTION
On the 2nd February, change-seekers and creative action-makers came together to champion responsible innovation and radical collaboration. 400 attendees celebrated the official launch of PlasticFree at the Parsons School of Design in New York. Twelve speakers explored the answers to the climate crisis we have readily available today, including Made Thought's co-founder Ben Parker, as well as Dr Amanda Parkes–Pangaia, Celine Semaan–The Slow Factory and Jos Harrison–Reckitt. Watch the full event over at Dezeen.
Made Thought acted as a creative partner to the team at A Plastic Planet, designing not only the website but the communications around launch to see it adopted at scale. A key part of this was helping to bring to life the PlasticFree Advisory Council, which sees iconic creatives from across the globe lend their support to the platform.
Each member of the Advisory Council, which includes Thomas Heatherwick; Sir David Chipperfield; Tom Dixon; Shaway Yeh; Jeremy Till and Skylar Tibbits of the Massachusetts Institute of Technology amongst others, was asked to pen an essay on the 'Incredible Future Now' of their respective industries.

Collectively these stories paint a picture of the future of living cities, circular materiality, pre-fill economies, regenerative packaging, environmental law and empowered design education–a vision of how we are going to live. These essays will be published alongside media partners throughout 2023.