MADE THOUGHT PRESENTS
QUESTION NO. 2
EXPLORING THOUGHTS AND
CONVERSATIONS ON VISUAL CULTURE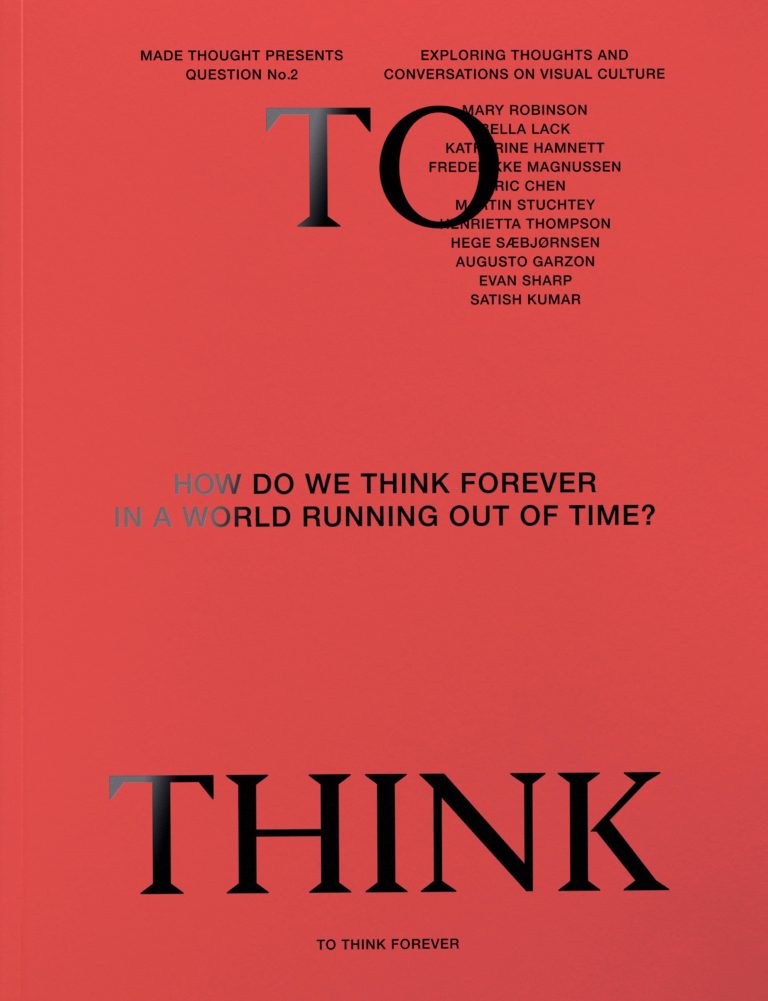 ISSUE 2
TO THINK FOREVER
HOW DO WE THINK FOREVER IN A WORLD RUNNING OUT OF TIME?
IN THOUGHT WITH MARY ROBINSON, BELLA LACK, KATHARINE HAMNETT, FREDERIKKE MAGNUSSEN, ARIC CHEN, MARTIN STUCHTEY, HENRIETTA THOMPSON, HEGE SÆBJØRNSEN, AUGUSTO GARZON, EVAN SHARP and SATISH KUMAR
EACH ISSUE OF TO THINK BRINGS TOGETHER PROVOCATEURS, ENTREPRENEURS, DESIGNERS AND MAVERICKS TO DEBATE A SINGLE QUESTION WITH THE AIM OF PROVOKING DEBATE AND OPENING UP FULFILLING THOUGHT. OUR HOPE IS THAT TO THINK WILL PROVIDE THE NECESSARY MOMENTS OF QUIET TO STOP, CONTEMPLATE AND THINK.
UK
(LONDON)
BOUTIQUEMAGS, MAGMA, MAGCULTURE, GOOD NEWS, KIOSKAFE, MAGNUM NEWS, KINGSWAY NEWSSTAND, CHALK FARM NEWSSTAND
(REST OF THE UK)
MAGALLERIA (BATH), ROVA EDITIONS (BRISTOL), RARE MAGS (STOCKPORT), COLOURS MAY VARY (LEEDS), UNITOM (MANCHESTER), UNIQUE MAGS (NEWCASTLE)
EUROPE
ATHENAEUM (AMSTERDAM), DO YOU READ ME?! (BERLIN), ROSA WOLF (BERLIN), DYRM (BERLIN), IMS BOOKSTORES (ANTWERP AND HASSELT), PAPERCUT (STOCKHOLM), GUDBERG NERGER (HAMBURG), COFFEETABLE MAGS (HAMBURG)
USA
(NEW YORK)
BOUWERIE ICONIC MA, ICONIC MAGAZINE, LEXINGTON NEWS, LONDON GROCERY, MAGAZINE CAFE, MULBERRY ICONIC MA, SOHO NEWS, VILLAGE GLOBAL NEWS
(CALIFORNIA)
CANYON NEWS STUDIO CITY, KOSHER NEWS LOS ANGELES, LARCHMONT ABOVE LOS ANGELES, BEVERLY HILLS NEWS, CURRENT EVENTS NEWS MANHATTAN BEACH, CENTURY WORLD NEWS LOS ANGELES, CENTERFOLD NEWS LOS ANGELES, WHAT'S NEWS WOODLAND HILLS, AL'S NEWS BEVERLY HILLS, KING'S NEWSSTAND LOS ANGELES, BRENTWOOD NEWS, ALL AMERICAN NEWS ENCINO, LONG BEACH TRAVEL BUENA PARK, FOG CITY NEWS/UPS SAN FRANCISCO, SMOKE SIGNALS SAN FRANCISCO
(REST OF THE USA)
AVRIL50 (PHILADELPHIA), POLITICS & PROSE (WASHINGTON)

REST OF THE WORLD
THE SMITH PROJECT (THAILAND), BASHEER GRAPHICS (SINGAPORE)