HOW CAN CREATIVITY ACCELERATE BOLD AND BEAUTIFUL FUTURES?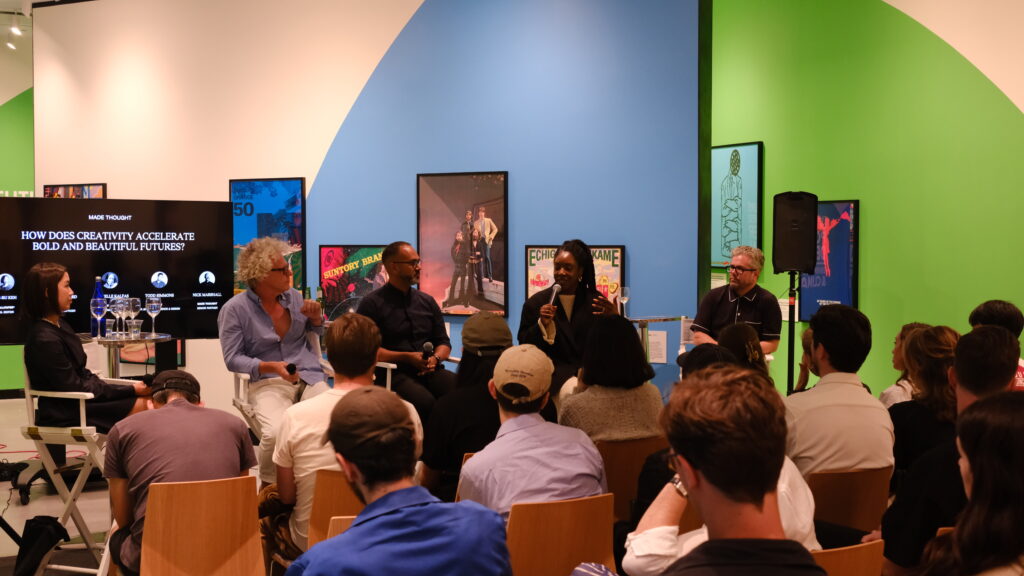 "Pessimism is easy...If we're talking about crafting the future, I think it's optimists who are going to craft the future" – Charles Fulford
Last week in New York we brought together leaders from across the creative industries to explore the idea of bold and beautiful futures. For us, creating bold and beautiful futures for our clients means imagining what better could look like, thinking big and presenting it beautifully. We invited Pei-Ru Keh, US Editor of Wallpaper* magazine, to chair a panel discussion with Charles Fulford, Chief Creative Officer at Feeld; Todd Simmons, VP Brand Experience at IBM; Chanelle Kalfas; Head of Brand Marketing at The New York Times and Nick Marshall, Senior Partner at Made Thought and find out what future-focused creativity means to them.

Here are our key takeaways:
Simple, clear messaging is key to communicating bold ideas that inspire hope and trust, and encourage critical thinking. If something is difficult to understand, change that.

To truly empower people to see a better future, and invest in your vision, it has to be beautiful and it should elicit joy and a positive emotional response. Beauty and feel can go beyond reason–if it feels right, and it looks right, it probably is right–even without a logical explanation.

The size of the mission doesn't matter, but the impact does. Your business doesn't have to have a lofty goal, but it should have the intention of making people's lives better even in a small way. No matter what it is that you offer, know your purpose and show your value, and find ways to move people towards your goals.

With the power to influence comes responsibility. Businesses should use that to show people why they should care about things that really matter; make the important attractive. Changing or challenging perspectives isn't easy, so a certain amount of prodding and pushing is needed for people to dig into their beliefs. 

Order versus disorder: Figure out what is and isn't working within a business, and then break the parts that are no longer needed and reconfigure with totally new ideas. Continuity and trust is important, but businesses shouldn't let past legacy overshadow future relevance and innovation. One of the most important things as a creative professional: never answer the brief properly.

We are in a moment of change, and, as we can see, change can be divisive and destabilizing. To tackle our biggest challenges–climate change, economic inequity, systemic racism–the focus must be on the solutions. Find joy where you can. Ignite passion and excitement for the positive, rather than reinforcing the negatives. Pessimism is the easy way, the lazy way, to deal with the issues. But realism is an absolute necessity. Mix that with some inspired optimism, and unbounded creativity, and take the difficult - but absolutely necessary - path of creating bold and beautiful futures.

Watch the full talk here. And to find out when our next talk is happening sign-up to our newsletter.